Our SUPER SWEET raspberries deliver PURE JOY and DELIGHT to your day. Add them to your favorite meal, SMOOTHIE or just devour them straight out of the pack!
We have carefully chosen our raspberry varieties to grow beautifully big and wonderfully sweet fruit in our orchards' sunny Northland climate.
Each berry is delicately hand-picked by our dedicated harvest team, and quickly taken to our on-site packhouse where they are immediately chilled and then gently packed, ready for you to enjoy.
Our massive raspberries are a rich source of vitamin C, manganese and are also a great source of fibre. Not only do raspberries have one of the highest proportions of dietary fibre, but it is soluable fibre which helps to control your glucose levels, improves bowel function, combats cholesterol and helps decrease the risk of colon cancer.
Raspberries also help to lower the risk of heart attacks.  An American study of women who ate anthocyanin-rich berries three or more times per week found that their risk of heart attack was reduced by nearly 30 percent. The potassium in raspberries is another mechanism that supports heart health.
Raspberries are also a low-glycemic index food, with no starch and a total sugar content of 4%! Awesome!
The ultimate in decadence at Christmas time, we can now provide you with these nutrient packed treats for much of the year.
Click here to find out WHERE TO BUY our RASPBERRIES
Nutritional


Information

Amount per 100grams
| | |
| --- | --- |
| Energy kj/cal | 144/35 |
| Total Fat (g) | 1.1 |
| Dietary Fibre (g) | 3 |
| Vitamin C (mg) | 14 |
| Folate (µg) | 33 |
| Postassium (mg) | 170 |
Delicious Raspberry
Recipes
Raspberry

Stockists

You can find our Raspberries at the following quality stores, just look for the black Maungatapere Berries label.
Nationwide:
Countdown Supermarkets
Farro Fresh Supermarkets
New World & Pak'n'Save Supermarkets
Fruit World Markets
Whangarei:
The Office Café (Maungatapere)
GAS Maungatapere
Huanui Fresh (Glenbervie)
Pak'N'Save Whangarei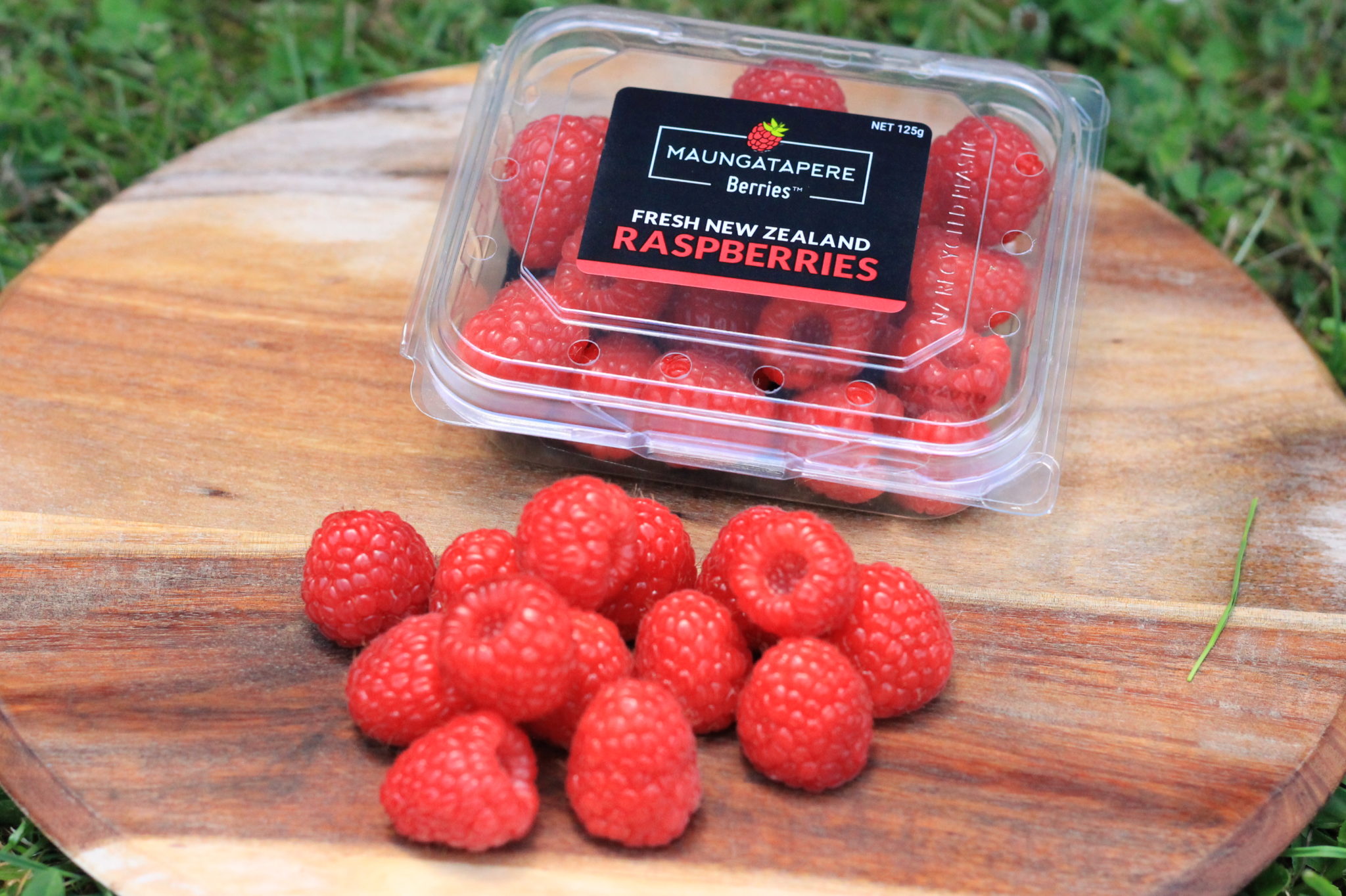 WHY NOT CHECK OUT OUR FABULOUS BLUEBERRIES! Absolutely massive, bursting with flavour and with a beautiful crunch. Take your taste buds on an adventure! FIND OUT MORE