Archives: Recipes
Victoria Sponge Cake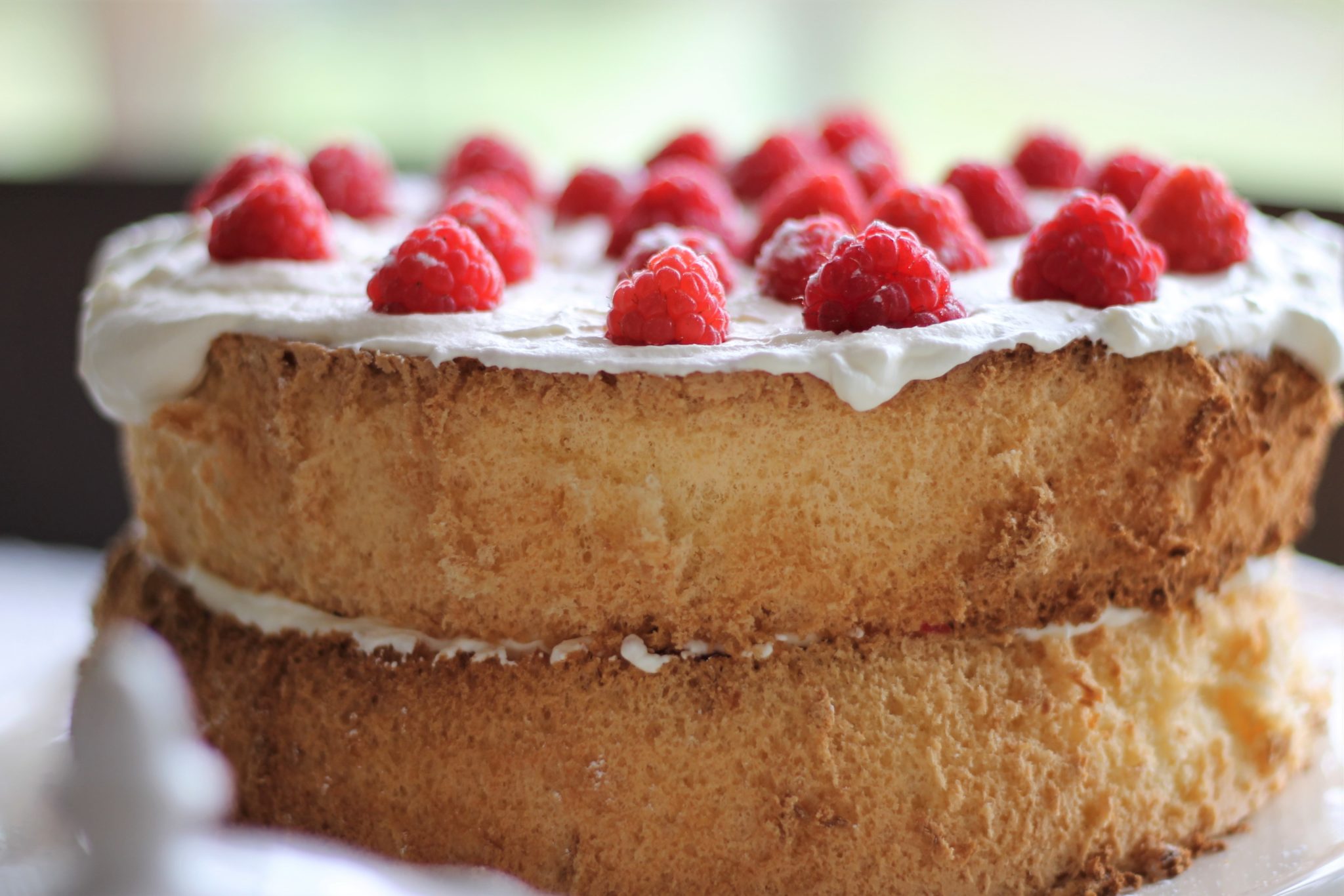 METHOD:
Preheat oven to 180°C bake.
Beat 4 egg whites with 1 tablespoon of boiling water until stiff.  Add White Sugar slowly. Beat until dissolved. Mix in yolks one at a time.
Put flour in a cup, fill up the rest with cornflour. Sift into the sugar and egg mixture with baking powder. Fold in.
Divide mixture between two 20cm sponge tins and bake for 20-25 minutes.
Drop sponges on bench when taken out of oven. When cool sandwich together with cream and jam and fresh raspberries. Then cover with more cream, decorate with a generous amount of raspberrries and sprinkle with Icing Sugar.
Recipe from Chelsea Sugar website https://www.chelsea.co.nz/browse-recipes/never-fail-sponge/
Ingredients
| | |
| --- | --- |
| Eggs | 4 |
| Boiling Water | 1 Tbsp |
| Sugar | 3/4 Cup |
| Plain Flour | 1 Tbsp in 1 Cup |
| Cornflour | Fill up Cup above |
| Baking Powder | 2 Tsp |
| Cream | 500ml |
| Raspberry Jam | To spread in middle |
| Fresh Raspberries | Be Generous!! |
More Delicious Raspberry
Recipes
Raspberry Yoghurt Iceblocks

The perfect way to cool the kids down on a hot summer's day with this tasty, and healthy, treat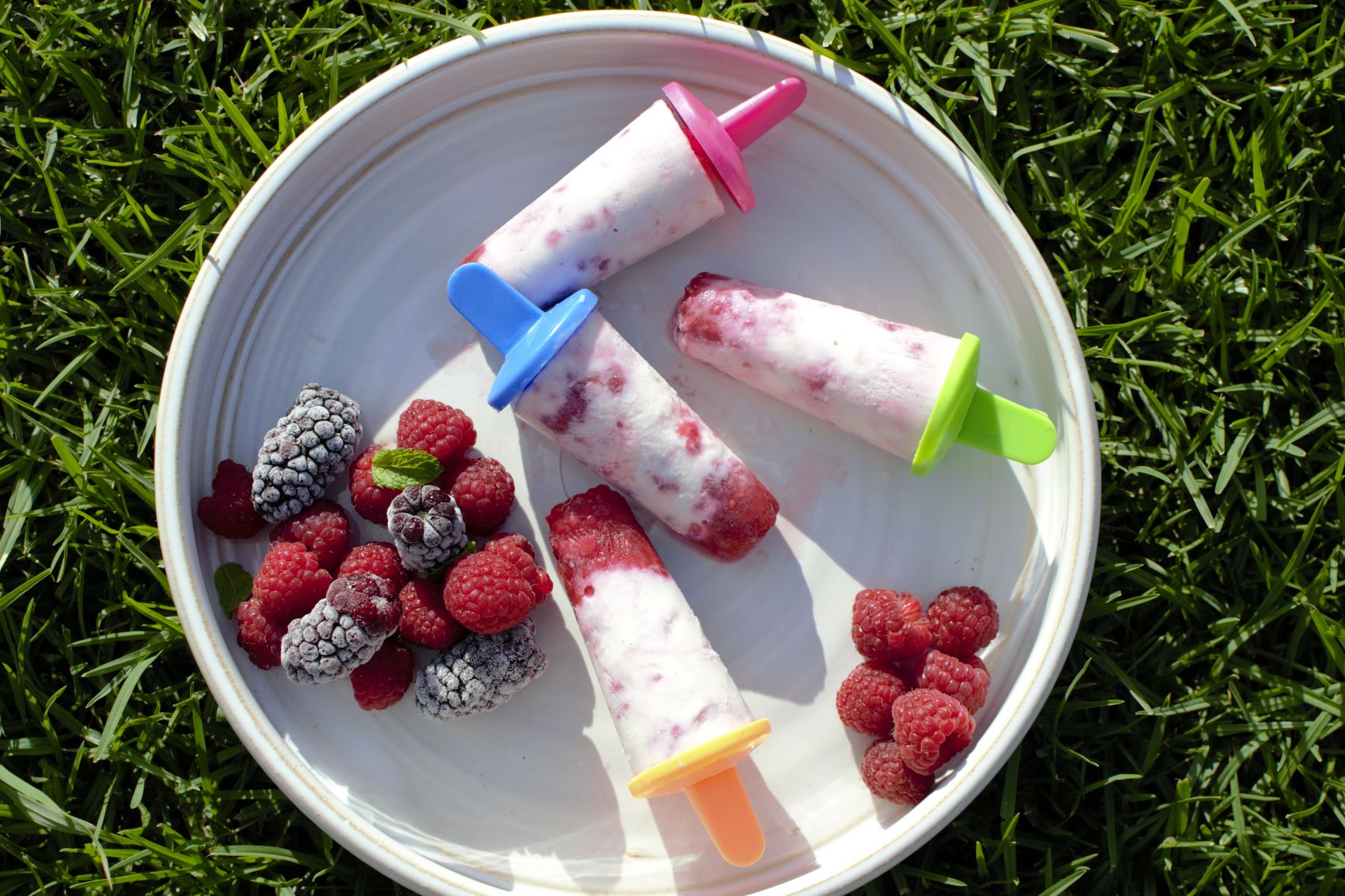 We've used frozen raspberries but you could use any type of frozen, or fresh, berry that you have.
METHOD
In a small bowl soak the berries with lemon juice and 1 1/2 Tablespoons of the honey, give them a little crush with a fork.  Place a heaped teaspoonful of this mixture in the bottom of each iceblock mould.  Mix yoghurt and remaining honey in another bowl and fold in remaining berry mixture.  Split this mixture between the moulds and insert iceblock stick into each. Freeze overnight.
You could also use any other types of frozen or fresh berries that you may have.
These will keep for up to 1 week in your freezer.
Makes 4-6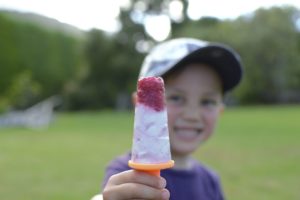 Ingredients
| | |
| --- | --- |
| Frozen raspberries | 200g |
| Plain greek yoghurt | 1 cup |
| Honey | 3 1/2 Tablespoons |
| Lemon | Juice of 1/2 |
More Delicious Raspberry
Recipes
Frozen Berry Dessert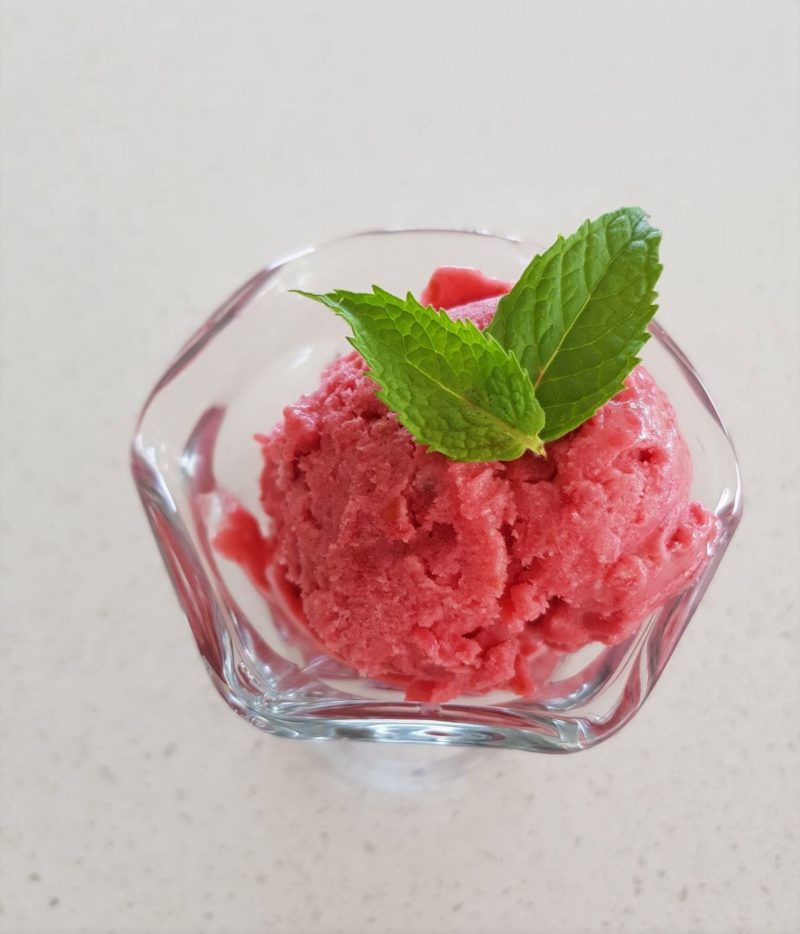 This quick and easy treat is cross between an ice cream and a sorbet. Delightfully refreshing and totally guilt free!
METHOD
Add both ingredients to a food processor and blend until smooth. Freeze for 3-4 hours before serving.
Serves 2.
Ingredients
| | |
| --- | --- |
| Frozen Raspberries | 1 Cup |
| Frozen Bananas | 1 Whole, peeled |
More Delicious Raspberry
Recipes
Double Chocolate & Raspberry Brownies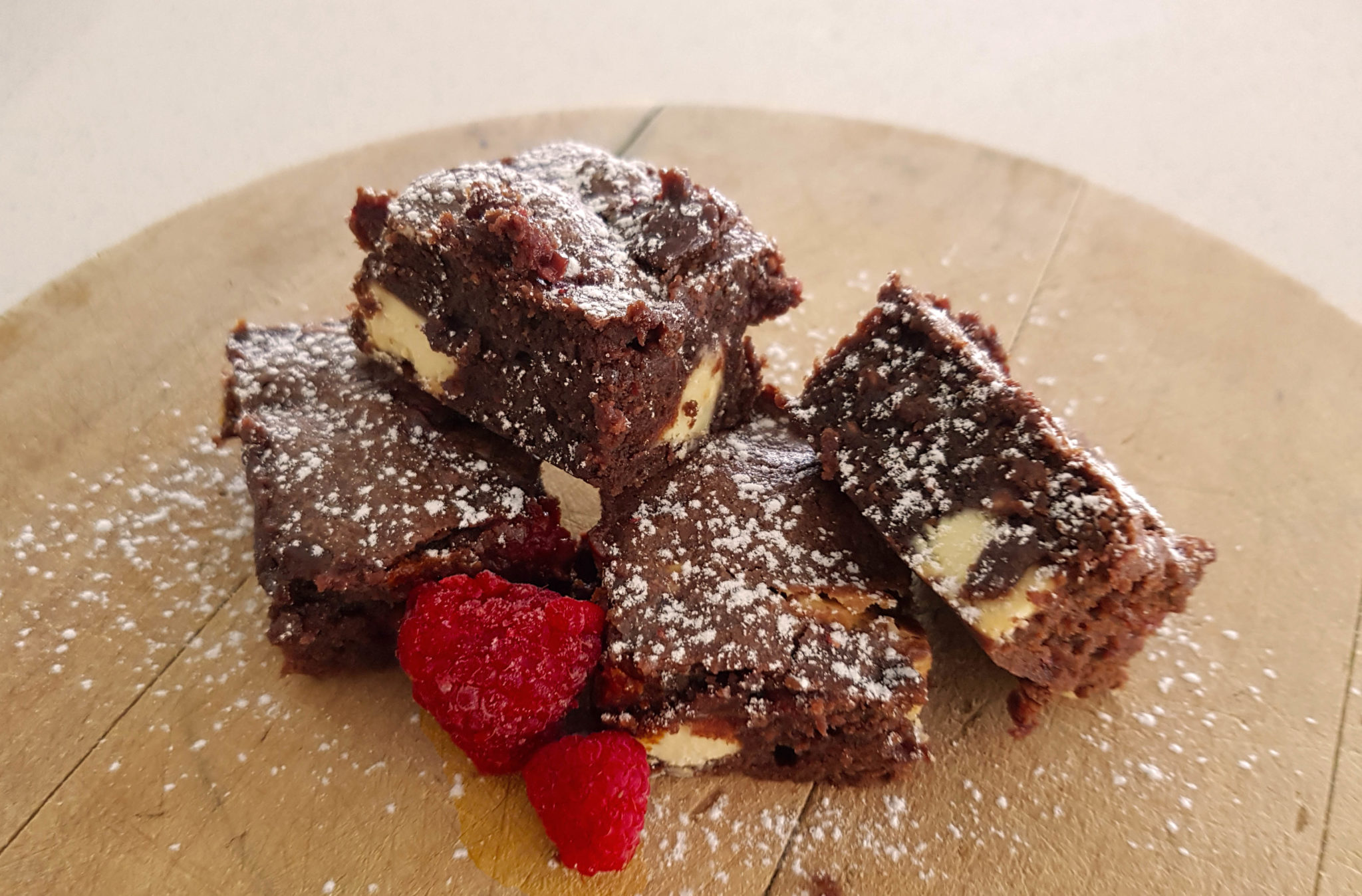 The richness of the chocolate, combined with the delicious taste of raspberry throughout makes this brownie a real winner. 
METHOD
Preheat oven to 180 degrees C. Grease a 20cm x 30cm rectangular pan, line base and sides with baking paper, extending paper slightly over sides.
Stir dark chocolate and butter in a large heatproof bowl over a large saucepan of simmering water until smooth. Add sugar and mix well. Remove from heat, stir in eggs, then sifted flour, raspberries and white chocolate.
Spread mixture into prepared pan, bake 30 minutes. Cool brownie in pan before cutting.
Prep & cook time 40 mins
Ingredients
| | |
| --- | --- |
| Dark chocolate, chopped coarsely | 250g |
| Butter, chopped coarsely | 150g |
| Caster sugar | 1 cup |
| Plain flour | 1 1/2 cups |
| Eggs, beaten lightly | 3 |
| Frozen raspberries | 155g |
| White eating chocolate, chopped coarsely | 125g |
More Delicious Frozen Raspberries
Recipes
Raspberry Panna Cotta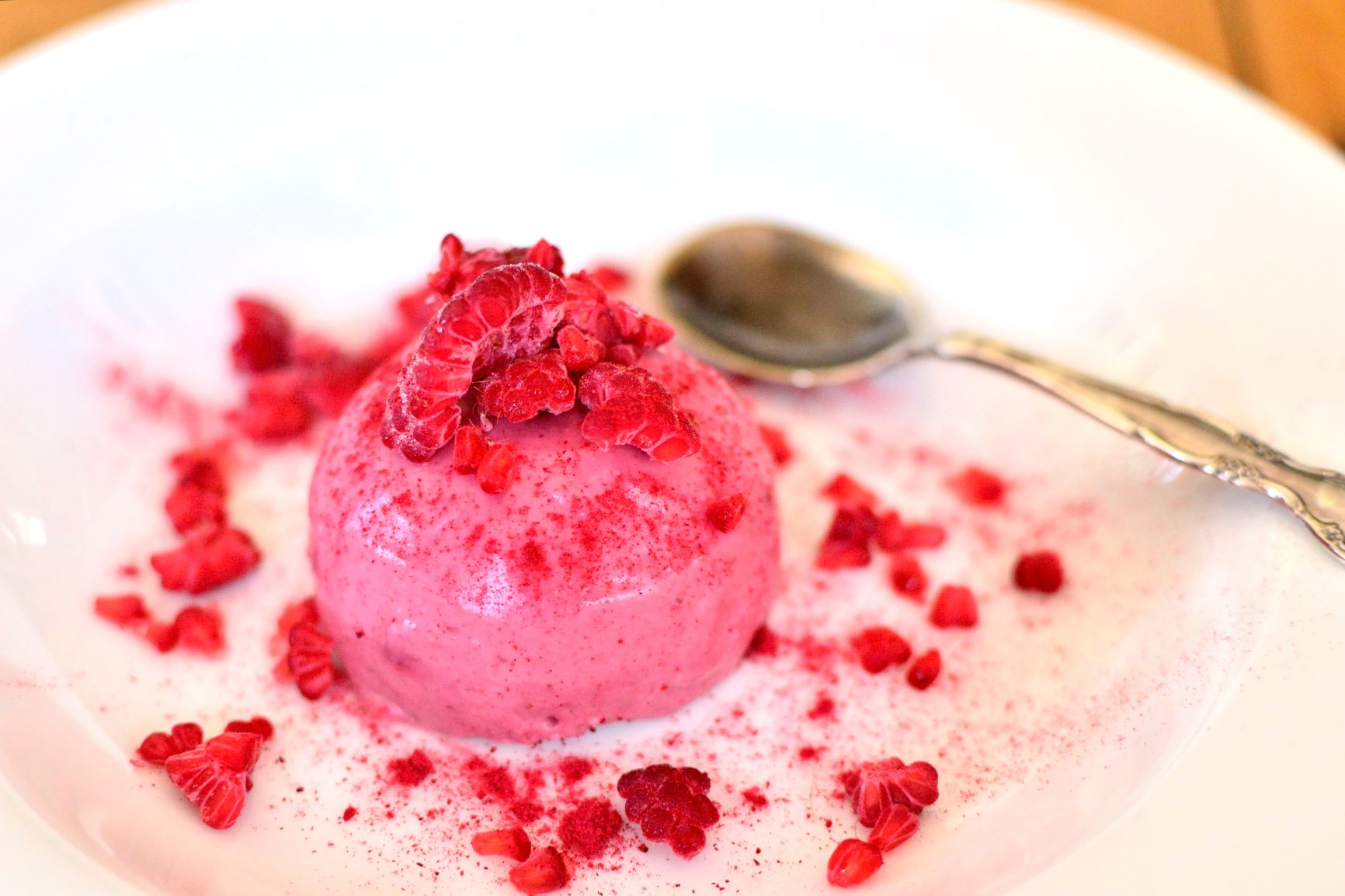 This Panna Cotta is an easy way to impress your guests and tastes divine! Serve in 6-8 individual moulds such as dariole moulds available from kitchen supply stores, coffee cups, small drinking glasses or even muffin tins, although it is easier to have each mould separate when it comes time to plate up. You can also serve directly in pretty glasses and then don't have to turn them onto plates when serving.
METHOD
Using your food processor puree your raspberries and strain through a fine strainer. Use only the puree (not the seeds) and place 1 Cup in a saucepan.
Sprinkle gelatin powder over the puree and leave for five minutes, then heat over a low heat until the gelatin dissolves, stirring constantly. Whisk the cream, sugar and milk into the puree mixture and heat until just warm, and sugar is dissolved. Strain into a large jug. Strain again and pour evenly into serving moulds.
Refrigerate for 4 hours or until set covering the tops with plastic wrap or for a more environmentally friendly option use reusable silicon covers or bees wax wraps. Don't let them touch the dessert inside.
Can be prepared up to 1 day ahead. Serve with fresh or frozen raspberries
Ingredients
| | |
| --- | --- |
| Raspberries | 2 Punnets |
| Cream | 2 Cups |
| Gelatin | 1 Tbsp |
| Milk | 1 Cup |
| Caster Sugar | 6 Tbsp |
More Delicious Raspberry
Recipes
Chocolate Mousse with Raspberries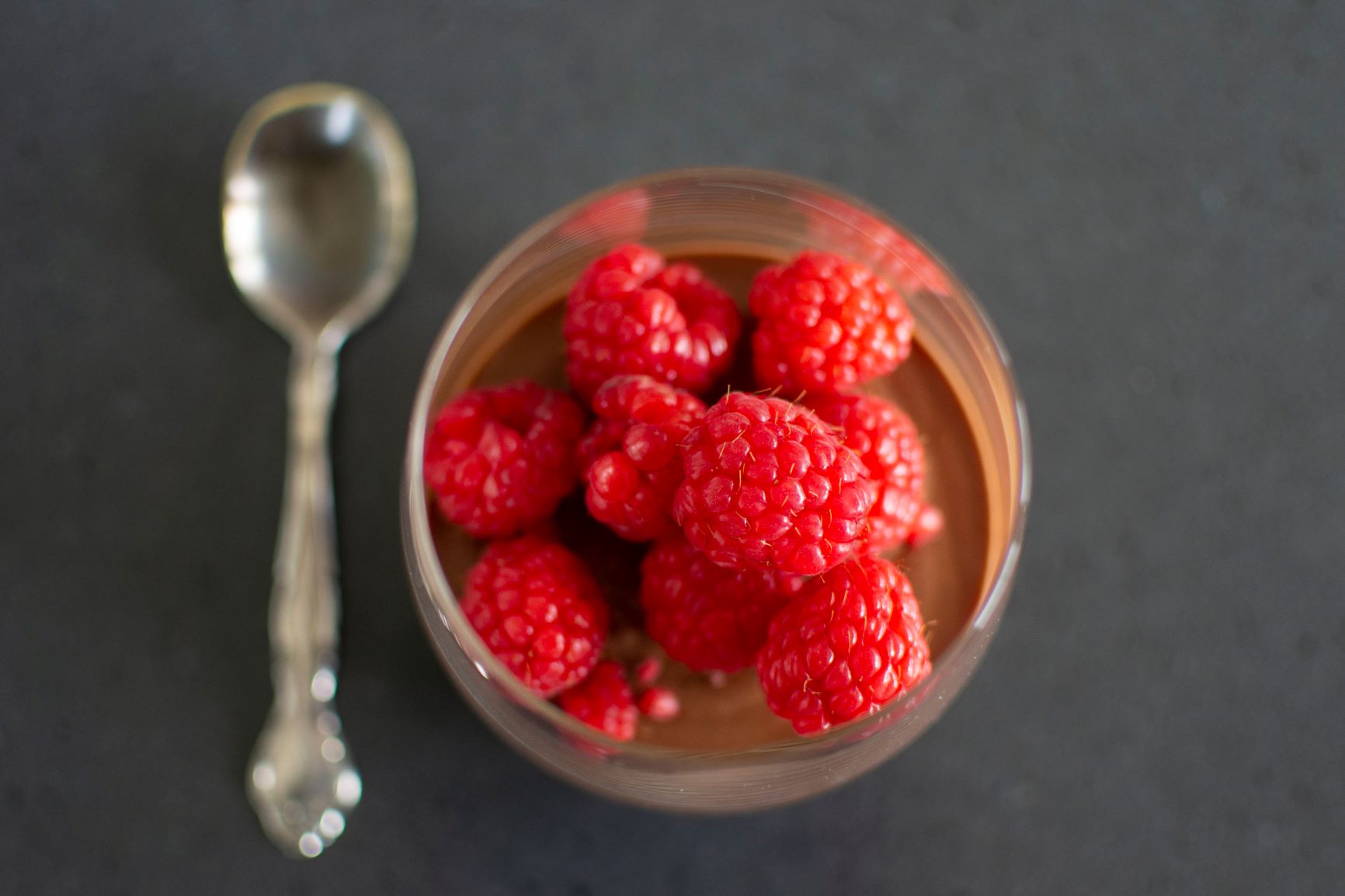 This mousse is quick, easy and tastes oh so decadant.  Serve as one large mousse to share or in individual moulds or nice glasses.
METHOD
In a microwave melt the chocolate, 1/4 cup of water and the butter until the chocolate and butter are melted (best in 30 second bursts). Stir until smooth. Cool for 10 minutes.
In a small saucepan whisk egg yolks, sugar and remaining water. Turn on heat and cook (while stirring) over medium heat until mixture is thick enough to coat the back of a metal spoon. Remove from heat and whisk in chocolate mixture.
Set saucepan in ice and stir until cooled, about 5-10 minutes. Fold into whipped cream. Spoon into decorative bowls. Refrigerate overnight and decorate (generously) with beautiful fresh Raspberries.
Makes 6-8 servings.
Ingredients
| | |
| --- | --- |
| Semi-sweet Chocolate | 225 grams |
| Water | 1/2 cup (divided) |
| Butter | 2 tablespoons |
| Egg Yolks | 3 |
| Sugar | 2 tablespoons |
| Cream, Whipped | 1+ 1/4 cups |
More Delicious Raspberry
Recipes
Raspberry Detox Water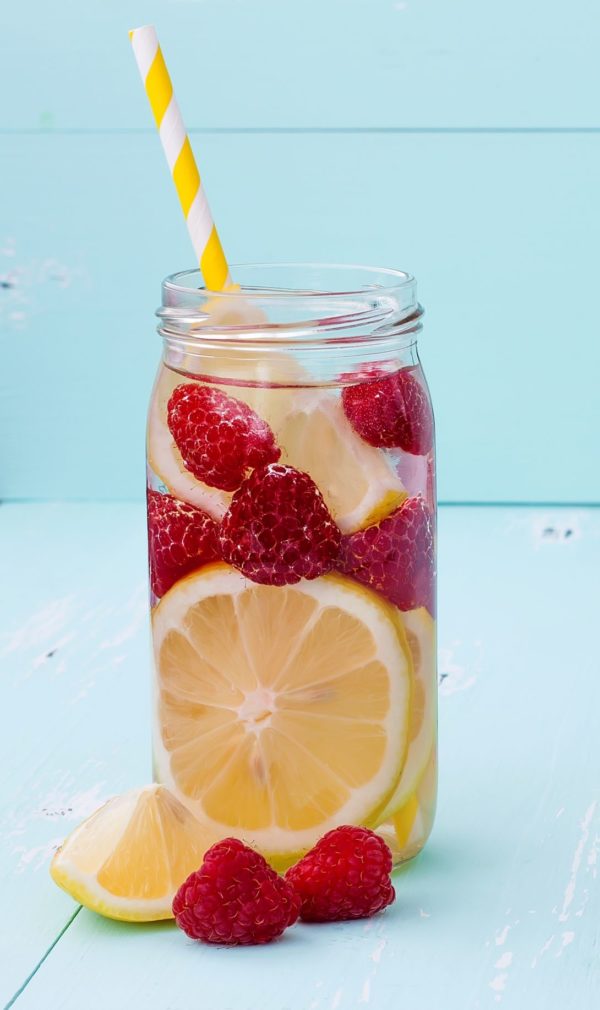 Kickstart your healthy eating with this refreshing and detoxifying refresher
METHOD
Grab your favourite glass and squeeze in half a lemon. Add a handful of fresh raspberries. Top with filtered water and infuse for at least an hour. Add mint leaves and enjoy!
Ingredients
| | |
| --- | --- |
| Lemon | Juice & Slices |
| Filtered water | |
| Raspberries | A handful |
| Mint leaves | |
More Delicious Raspberry
Recipes
Maungatapere Mess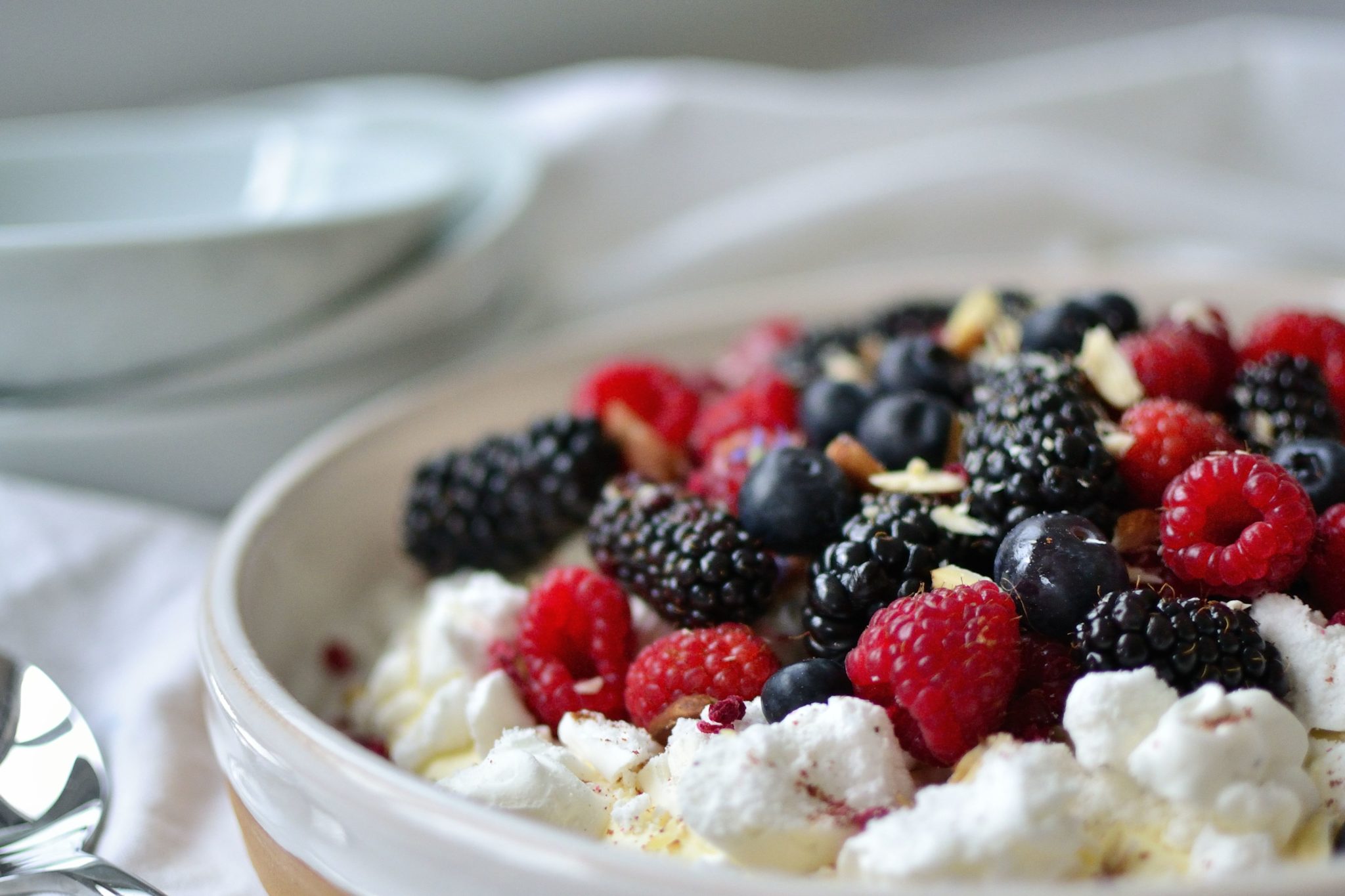 Black pepper meringue, fresh whipped cream and delicious fresh berries. If you're not feeling brave, just leave out the black pepper. The meringue can be made ahead of time and stored in an air-tight container, then assembled just before you need to serve.
METHOD
Preheat oven to 80 degrees celcius. Line a baking tray with baking paper or a non-stick mat. Using an electric mixer, whisk egg whites until soft peaks form. Gradually add caster sugar to the egg whites, a tablespoon at a time, whisking well between each addition. Once all caster sugar has been added, continue whisking on high for 3 minutes or until mixture is thick and glossy. Fold in sifted icing sugar and black pepper until well combined.
Pipe or dollop tablespoonfuls of mixture on to the lined baking tray. Place in the centre of the oven and bake for 90 minutes, or until meringue easily lifts off the baking paper.
To assemble:
Whip cream to soft peaks and put on the bottom of a large dessert dish. Place crushed meringues on top then fresh berries. Garnish with slivered almonds and freeze dried raspberries. Or layer meringue, cream and berries in glasses and serve individually.
PREP: 20 MINUTES
COOK TIME: 90 MINUTES
SERVES: 6
Ingredients
| | |
| --- | --- |
| Egg Whites | 3 |
| Caster Sugar | 1/2 Cup |
| Icing Sugar | 1/2 Cup |
| Ground Black Pepper | 1/2 tsp |
| Cream | 500mL |
| Fresh Berries (Any combination of our delicious berries will do) | 3 Punnets |
| Slivered toasted almonds, freeze-dried raspberries to garnish | |
More Delicious Berry
Recipes
Raspberry Banana Smoothie

Packed with nutrients and flavour this will give you all the energy you need for the day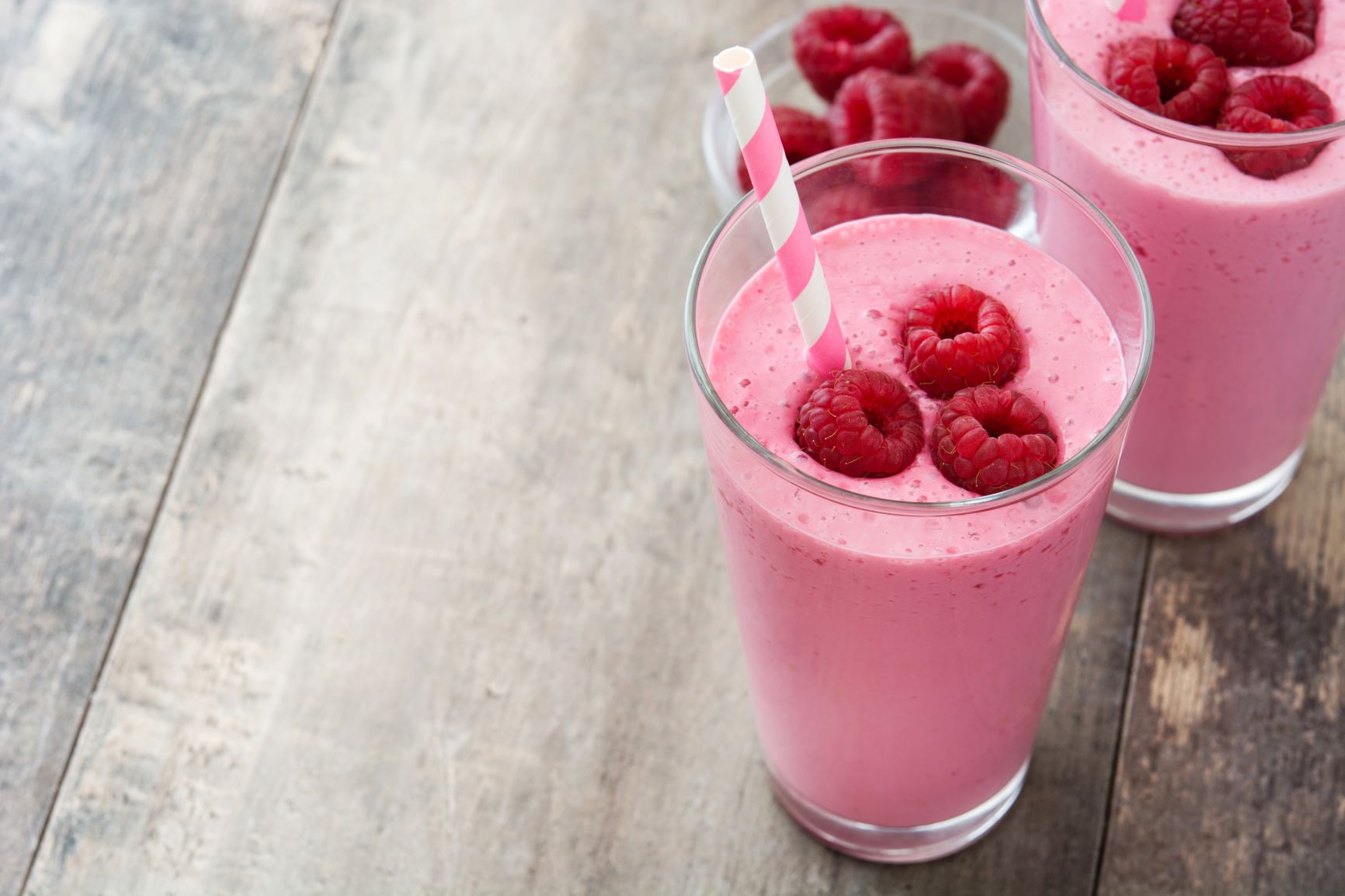 This smoothie is a great start to your day,  perfect for an on the go breakfast. 
METHOD
Add all ingredients to a blender or nutribullet and puree until smooth.
Serves 1
Ingredients
| | |
| --- | --- |
| Raspberries (Fresh or Frozen) | 1/2 cup |
| Banana | 1 peeled |
| Milk | 1/2 cup (any type) |
| Plain greek yoghurt | 1/2 cup |
| Water | 1/4 cup |
| Ice cubes | 3-4 |
More Delicious Raspberry
Recipes