Summer Berry Platter with Meringue Shards and Whipped Coconut Cream (GF, DF)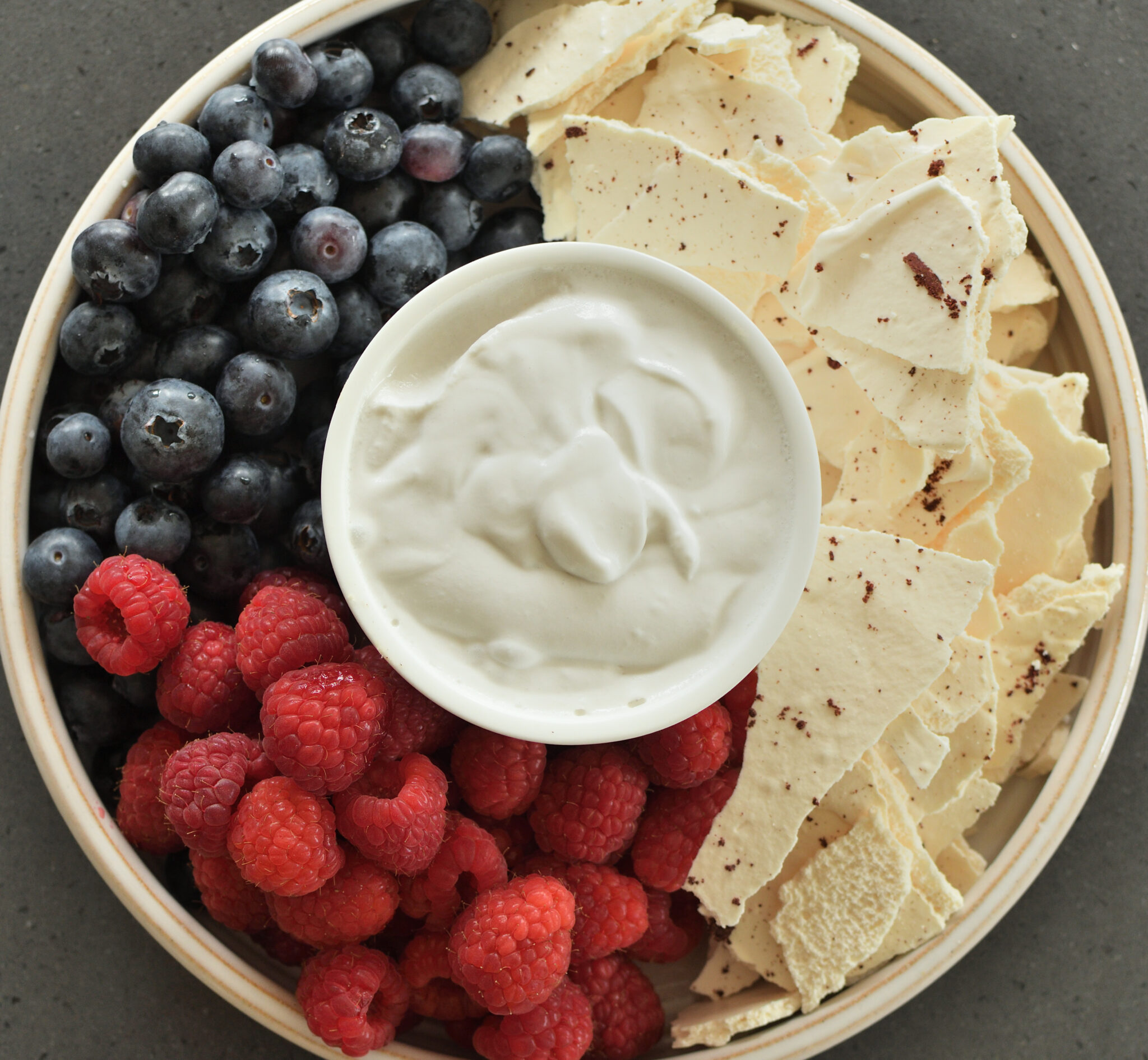 Summer Berry Platter with Meringue Shards and Whipped Coconut Cream (GF, DF)
A delicious, sweet dessert that is prepared in advance and is guaranteed to impress your guests! Berries, meringue and cream are the perfect combination, however whatever seasonal fruit you can get your hands on would work. This version is dairy free but the coconut cream can be easily swapped for whipped cream.
Ingredients:
2 cups of fresh berries (or other summer fruit)
Meringue:
3 Egg whites
½ cup caster sugar
½ cup icing sugar
Optional: Freeze dried raspberry powder
Cream:
1 x 400mL can of coconut cream – chilled in the fridge for 24 hours
For the cream:
Place can of coconut cream in the fridge at least a day before you are wanting to serve this dish.
On the day, whip the chilled coconut cream with an electric whisk until thick. Place back in fridge for 1-2 hours to allow to set. NB. Coconut cream does not whip the same as your standard cream. It may take several more minutes to whip and consistency will not be as thick as whipped cream, but is just as delicious!
For the meringue:
Preheat oven to 80C bake. Line an oven tray with baking paper.
Place egg whites in clean bowl and using an electric mixer, whisk to soft peaks. Next add in caster sugar, one tablespoon at a time, whilst continuing to whisk until mixture is incorporated and then for a further ~5 minutes until mixture is glossy and forms stiff peaks.
Sift icing sugar into the meringue mixture and fold in gently with a metal spoon until mixture in evenly incorporated.
Tip meringue mixture onto the oven tray and using a spatula, spread the mixture out flat so that it is about 0.5cm thick. It does not need to be perfectly flat as a bit of texture to the meringue is fine. Sprinkle with freeze dried raspberry powder.
Bake meringue for ~1.5 – 2 hours, until meringue is dry and lifts off oven tray easily.
Once cooked, allow to cool and then break into shards. These can be kept in an airtight container for up to a week.
To serve, assemble berries on a platter with meringue shards and whipped cream.
Ingredients
| | |
| --- | --- |
| Egg whites | 3 |
| 1/2 Cup | Caster sugar |
| 1/2 Cup | Icing sugar |
| Optional - Freeze dried raspberry powder | |
| 1x 400ml can of coconut cream | |
More Delicious Raspberry
Recipes